These are all the current bills working through the MI legislature
House Bill 4580   Senate Bill 275    Senate Bill 159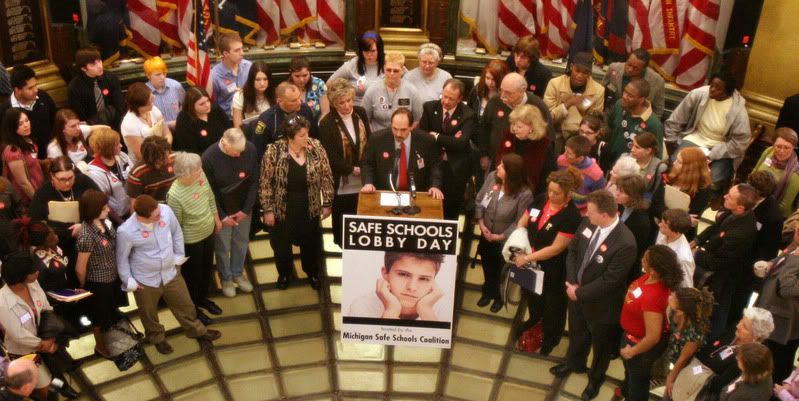 2008
This years Lobby Day was truly a success! Well over 160 people showed their support at the capitol. The families and friends of Tempest, Kristina, Chrystal, Austin and Matt were in attendence to once again ask our leaders to do the right things and pass 'Matt's Law"
For us it was an emotional day to say the least. It is always an uplifting but draining experience. There was great media coverage as well, and my thanks go out to all of those who participated, supported and came to this great event.
BUT WE STILL NEED YOUR HELP! Make your voice heard by using the simple link below to send a message to your Senator asking for them to pass "Matt's Law to help protect every child in every school across MI.
March 26th, 2008
This will be our third annual Lobby Day at the capitol to garner support for passage of "Matt's Safe School Law".
Last year the support was so great the bill was introduced and passed by the House the same day!
We have been stuck in the Senate Education Committee, chaired by Sen. Wayne Kuipers (R) of Holland for the past year. The committee has not scheduled a hearing for open and honest diologue of what is needed in our state's schools.Make your voice heard be at the capitol or contact your representative and ask for passage of"Matt's Safe School Law".
You can find out more information, and sign up to participate here.
The law will require every school district in MI to have an anti-bullying policy. Currently it is only suggested and some schools believe it is covered under zero tolerance.
Anti-bullying has been an issue for state lawmakers since 1999, yet almost ten years later, 34 states have passed MI with effective legislation. A tremendous amount of work has gone into working with all interested groups, and we need to move forward and pass "Matt's Law" for the children of MI.
We need to be clear, bullying is an issue not only here in MI but across the U.S. and around the globe.
Bullying can lead to academic problems, truancy, low self esteem, depression, crime and yes even suicide. Here in MI we have lost 5 children to bullying related suicides since 2001.